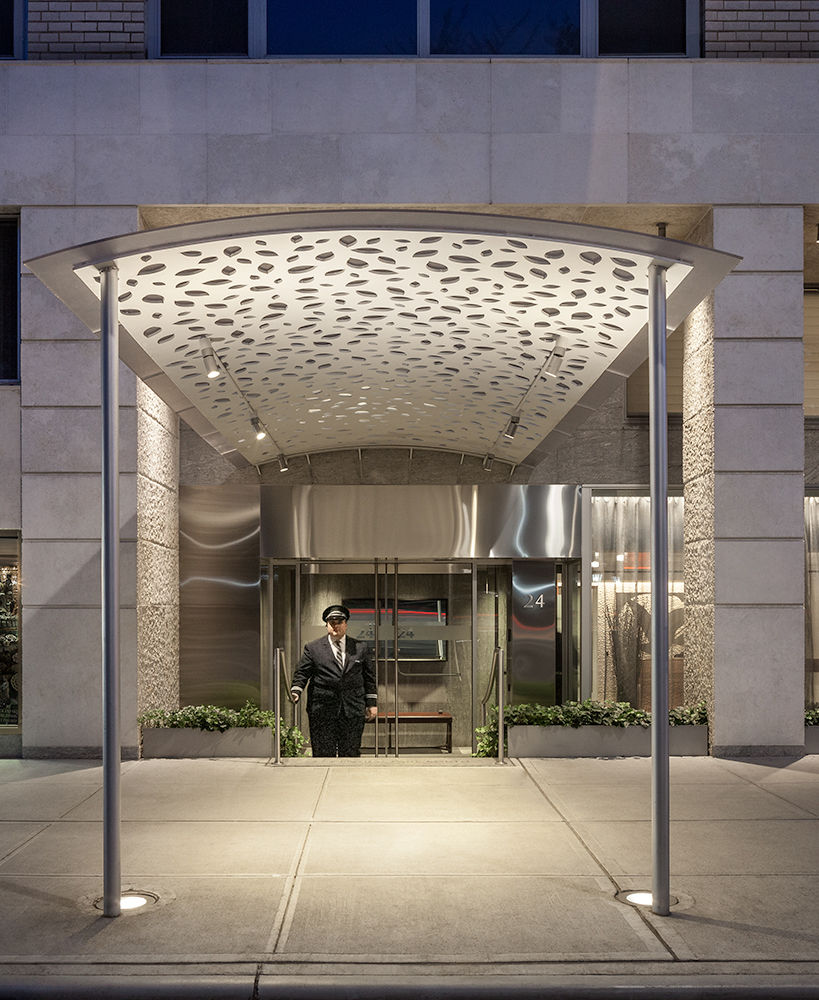 Location: New York, New York
Completion: 2018
Scope: Exterior Entry, Lobby and Gym
Design Team: Holzman Moss Bottino Architecture
Photography: Bradley Wheeler
This residential high rise is located on the coveted Central Park South. Residents enjoy beautiful views throughout the year with envious proximity to Central Park. To compete with other residential buildings on the street, 24 Central Park South needed to update and modernize their lobby, gym amenities, and street presence. The architectural design focused on opening and brightening the spaces while working around the limitations of the existing building.
View Slideshow >
One of the design goals was to differentiate the building from other residential buildings along the street with a more modern feel. The unique canopy features a custom cut leaf pattern that draws inspiration from the park across the street. The lighting concept sought to independently highlight the two elements of the canopy. The ingrounds along the street uplight the underside of the end of the canopy. This defines the canopy structure and illuminates the custom cut leaf pattern in the metal layer. A cylinder is mounted to the soffit above the canopy to illuminate the frosted acrylic layer above. By illuminating the acrylic from above the metal leaf pattern appears in silhouette creating an inverse effect from the other end of the canopy.
More cylinders are mounted along the soffit to graze the deep dramatic texture on the sides of the columns while also spilling light onto the greenery in the planters below. A miniature LED grazer was tucked up into the drapery pocket inside the glazing. This fixture washes light down the street side of the chain curtain to create a sense of privacy on the interior while still allow partial view to the street and park. This partial view also sparks intrigue from passersby on the sidewalk.
In the lobby, existing structural constraints of both the ceiling height and ceiling cavity provided a design challenge when selecting fixtures. A surface mounted fixture with a thick glass snoot was chosen to provide both the general ambient lighting and a decorative sparkle layer from one fixture type. The other main lighting layers are elements of vertical illumination on both art pieces and architectural elements. Linear lighting fixtures highlight the texture on both the wood reception desk and stone wall behind.