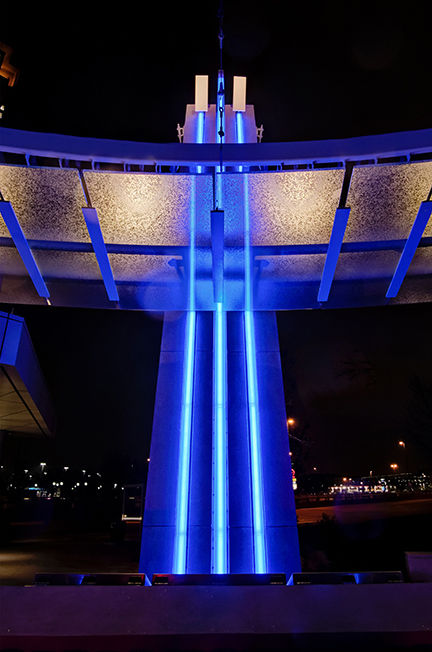 Location: Dallas, Texas
Completion: 2012
Scope: Trolley Turnaround Station, Plaza, Art Installations and Park
Design Team: GFF Inc., TBG Partners
Awards: IES 2012 Illumination Award of Merit
Photography: J Wilson
Cityplace Station Square and Urban Park consists of a trolley turnaround station, public park, and art installations. This site is located in a lively walk-able neighborhood of downtown Dallas. The trolley is a source of transportation and local experience in the neighborhood for residents and visitors alike. The entrance to a DART station is located adjacent to the trolley station. A forty foot tall sculpture by Cliff Garten stands in the center of the plaza across the park from the trolley station. The trolley station and Garten sculpture have become landmarks of the neighborhood for pedestrians and motorist on the adjacent highway.
View Slideshow >
Vibrant color changing lighting reflects the lively energy this neighborhood is known for. The color changing lighting is integrated into the architecture of the trolley station, and the polished wire framework of the Garten sculpture creates a layered twisting canvas ideal for washing with light. To remain budget conscious, color changing lighting is reserved for these two main elements while white lighting is used throughout the plaza and park on trees, water feature and low level pathway lighting. Step lights integrated into landscape benches and stake mounted tree accents create a comfortable, safe and inviting outdoor environment around the park and plaza.