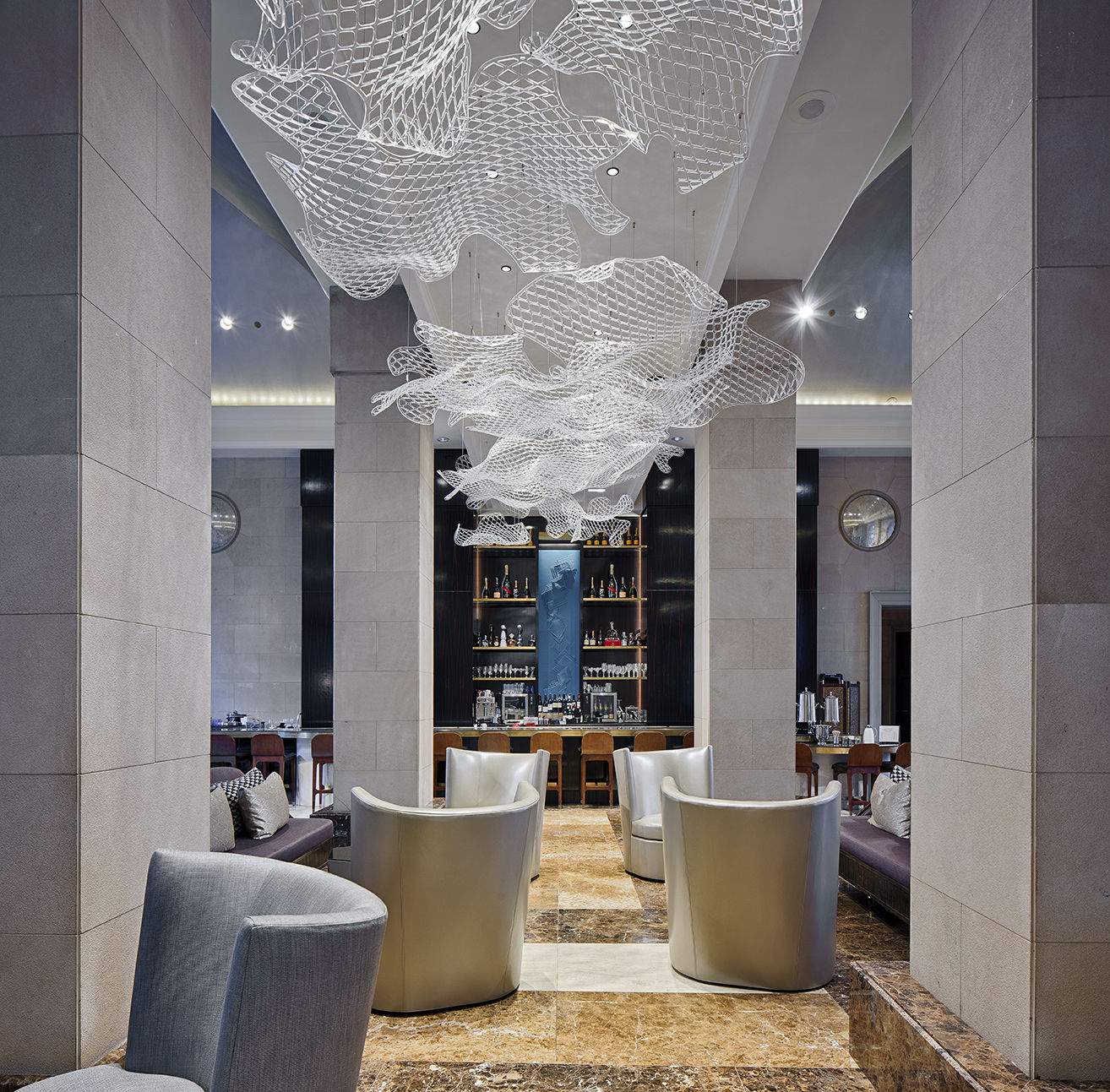 Location: Dallas, Texas
Completion: 2018
Scope: Lobby Bar and Sculpture Element; Spa Retail, Fitness, Juice Bar, Locker Room and Treatment Rooms.
Design Team: waldrop | nichols - Lobby Interior Designer; Michelle Meredith & Associates - Spa Interior Designer; Three Architecture - Architect; Schmidt & Stacy - MEP Engineer
View Slideshow >
The saying goes that you can't have all three: high quality, low cost, and fast delivery, but that is exactly what this project demanded - with a 4 week design and 12 week construction schedule, an extremely tight budget, and desire for an upgrade that bespoke the luxury of this high end brand. The revitalization for this 36-year old hotel included a lobby refresh, a fitness center update, and a spa renovation. For the lobby, flying mesh sculptures were suspended to help organize the single, large volume space into cozier reception, lounge, and bar zones. Small aperture, quick- ship, accents were added above these, adding drama and sparkle. Existing lobby lighting remained in the vaults, with high centerbeam candlepower retrofit lamps for punch and drama. The spine of illuminated sculptures emphasizes the new lobby bar. Exclusive liquor collection is highlighted with millwork lighting.
The more significant renovation of the basement spa required all new lighting fixtures and controls. One special feature is the use of twisted tree roots to visually divide spaces. For these, small uplights at the base were carefully coordinated with the fabricator, including shop mockups. But all the best laid plans are sometimes foiled when the wrong drivers are sent to the job and lighting will not dim. Tapelight LED grazers wash the wall behind the roots. The water feature is highlighted with a pin spot from the ceiling. Light coves uplift the low basement ceilings at these important feature walls.
The custom chandelier emphasizes the reception desk with special built in LED covelight. Retail layers both wallwashing and accenting to feature product. The fitness center behind was relamped to matching color temperatures and to improve output and color quality of the previous fluorescent sources. A few site mock ups and field checks were required to get the right replacement lamp or retrofit kit in each location. Special care was taken in detailing tapelight at pedestals to control site lines of individual diodes in glossy materials.