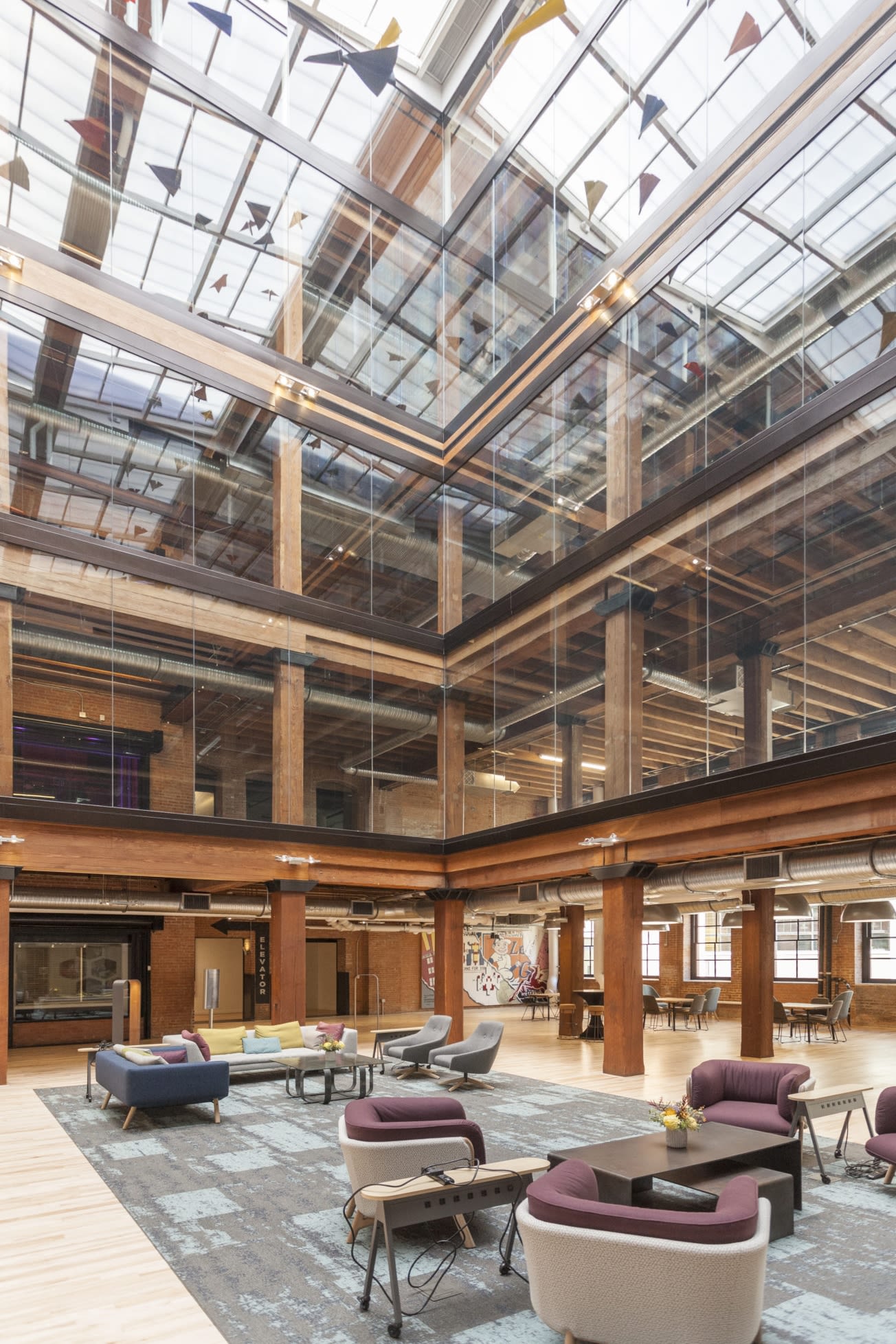 Location: Dallas, Texas
Completion: 2017
Scope: Building Core and Shell, Lobby, Elevator Lobbies, Amenity Spaces, Exterior and Site, Parking Garage
Design Team: GFF, inc. and Purdy-McGuire, inc.
Awards: Dallas Preservation Achievement Award 2018 and Dallas AIA Design Honor Award 2018
Publications: Blog Post by Rosco Spectrum and Featured in Preservation Dallas
Built in 1902 for the Brown Cracker & Candy Co. "the largest bakers of crackers and fancy confections in the Southwest." It's amazing how a structure can be transformed over time, in this case over 100 years. From a cracker factory, housing over 1,000 employees and giant ovens; to a movie theater, Planet Hollywood, indoor mall and arcade; to almost 10 years as a vacant structure, this historic structure now has new life as trendy office spaces. Finished with a huge atrium and an added amenity floor enclosed in glass, it provides a unique work environment. Restaurants are soon to come for the ground level. The project was an exercise in preservation and transformation. The project was rehabilitated within all requirements of the Dallas West End Historic District, it now serves as office space artfully combining the historic structure with contemporary infrastructure. From the care to restore the large wood support columns throughout, to the three iconic water tanks at the rooftop, we wanted to celebrate details.
View Slideshow >
Pictured above, the new entry vestibule is a jewel-like glass box, appearing to float away from the building with uplights carefully placed both inside and out. Dimmable LED linear fixtures detailed under stair treads illuminate the building stair plinth for safety.
A top level amenity deck with stunning views across downtown and vistas South is simply lit with surface mount accents and large decorative pendants. Fixture selections were important to reinforce the polished industrial feel of the interior design while being simple and inexpensive. In both locations large decorative fixtures capture attention. A historic feature of the building facade, special fixtures were located to scatter interesting shadows across the facade from the existing fire escape platforms.
On level 1, column-mounted lighting is exposed, highlighting the structure, yet minimal in style and with finishes that integrate with the applied systems, being intentional about what is new versus what is original to the building. The atrium delivers copious daylight to the interior of these large floor plates by day, and a moody lounge feel by night. Luminaires were selected to integrate with, yet also highlight, the wood construction - support columns, beams, and original hardwood floors. RGBW fixtures sitting atop the elevator cab and deep in the elevator pit highlight the feature elevator shaft visible on each floor.