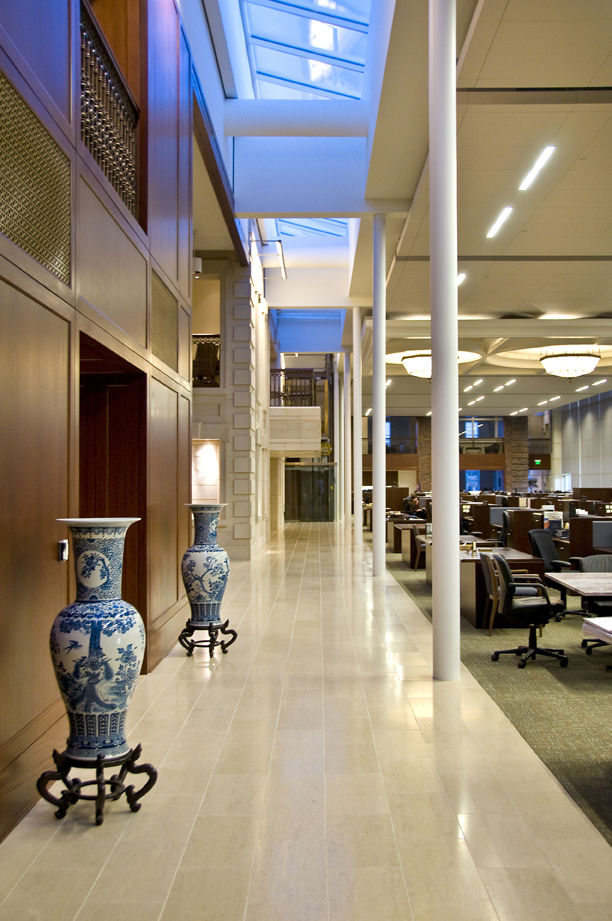 Location: Dallas, TX
Completion: 2008
Scope: Historic Main Hospital Building to Office use, Historic Nurse's Quarters to Dining, Tavern, Lounge, Conference
Design Team: GFF Architects
Awards: 2009 IES Illumination Award of Merit
If walls could talk, the historic buildings at Old Parkland would tell stories. The original 1894 Parkland Hospital was a wooden structure that was replaced by a modern brick building in 1913, with two wings added in 1921. When Parkland Hospital moved to a new building a mile away in the mid-1950s, the older facility, with an adjacent Nurse's Quarters, treated psychiatric and tuberculosis patients for another 20 years. It served as a low-security jail for a short while, and fell into disuse for almost 20 years. It was owned by Dallas County from 1996 to 2006, it was finally developed into the office complex it is now in 2008. As a historic landmark, the original Parkland Hospital and Nurse's Quarters were to be preserved on the exterior and treated with a traditional hand on the interior. The new open office is a modern glass box purposefully floating between the arms of the 1921 wings. Lighting for the traditional spaces puts period decorative pendants, sconces and surface mounts at the forefront, with supplemental architectural lighting only as needed. This decorative component spills into the modern spaces, but architectural lighting becomes part of the architecture.
Working with GFF, Essential Light Design Studio designed lighting for the historic interiors, modern interiors, historic exterior, modern exterior and historic Nurse's Quarters, now a tavern, dining hall with kitchen, library and meeting rooms.
View Slideshow >